Irish Setter: Their Story And Best Products
Hunting is a recreational hobby that involves tracking down wildlife and capturing or killing them. It can be seen as taking out wild animals that pose a threat to other species and humans or can be done as pest-control to protect crops. On the more recreational side, people have made several investments on gear to help them enjoy hunts and make the most out of hunting trips. Innovations and developments have been made to hunting clothes, rifles, bows, and boots – all of which boast features and benefits that are enjoyed by customers.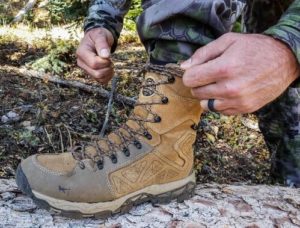 Aside from picking out a good rifle or bow, hunters must also focus on their clothing. Weatherproof and durable clothes are favored, as well as those with camouflage to blend in and fool their prey. However, one of the more important investments is a pair of hunting boots from the huntingfiles.com. Hunting boots provide comfort and stability to hunters as they traverse uneven ground as they hunt for wildlife. Boots can help them line up difficult shots on uneven ground, climb trees, easily scale steep inclines, and walk without soreness for hours on end.
One of the most known brands for reliable hunting boots is Irish Setter. The company was founded in the 1950s, producing boots simply called "Irish Setter". The boots featured Oro-Russet leather, in a color similar to an Irish Setter hunting dog, which was also featured as a logo. Over the years, American workers have used the boots despite being marketed as a pair of sportsman's boots; and by the 1970s, the company released innovations such as waterproof kangaroo hide boots with Vibram soles.
The company expanded to 14 variants of boots in the 1990s and celebrated its 50th anniversary in the year 2000 by introducing a revamped logo. The boots named "Style #882" became a staple for hunters due to the variant's versatility in rough terrain which is perfect for hunting trips. They continue to innovate by producing lightweight, durable, and reliable boots for modern hunters.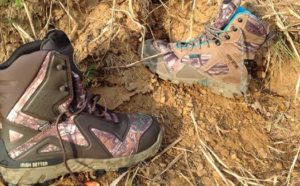 Irish Setter has been known for their durable and comfortable boots and is the go-to brand for many Americans. Some of the highly acclaimed variants are the Men's Vaprtrek 400 gram hunting boots, Rutmaster Lite, and 838 Wingshooter. All of these variants feature lightweight materials and maximum traction to allow for mobility on any terrain.
The company also has wide feet models which cater to those who find that regular-sized boots do not fit properly, which allows them to provide comfortable and reliable products to a wider demographic. Their boots are also famously waterproof, keeping the elements out on harsh conditions that would otherwise be bothersome.
Various purchases are made on hunting gear and boots are one of the most important pieces. Irish Setter ensures that their products are great investments and that hunters get the most out of their purchases. Their boots provide not only comfort and stability but also lightweight durability so hunters won't have to worry about feet soreness after walking an entire day during a hunt.
Resources:
Work Authority – Composite Steel Or Alley Toe, Which One is the Best?